Announced Mobile Operations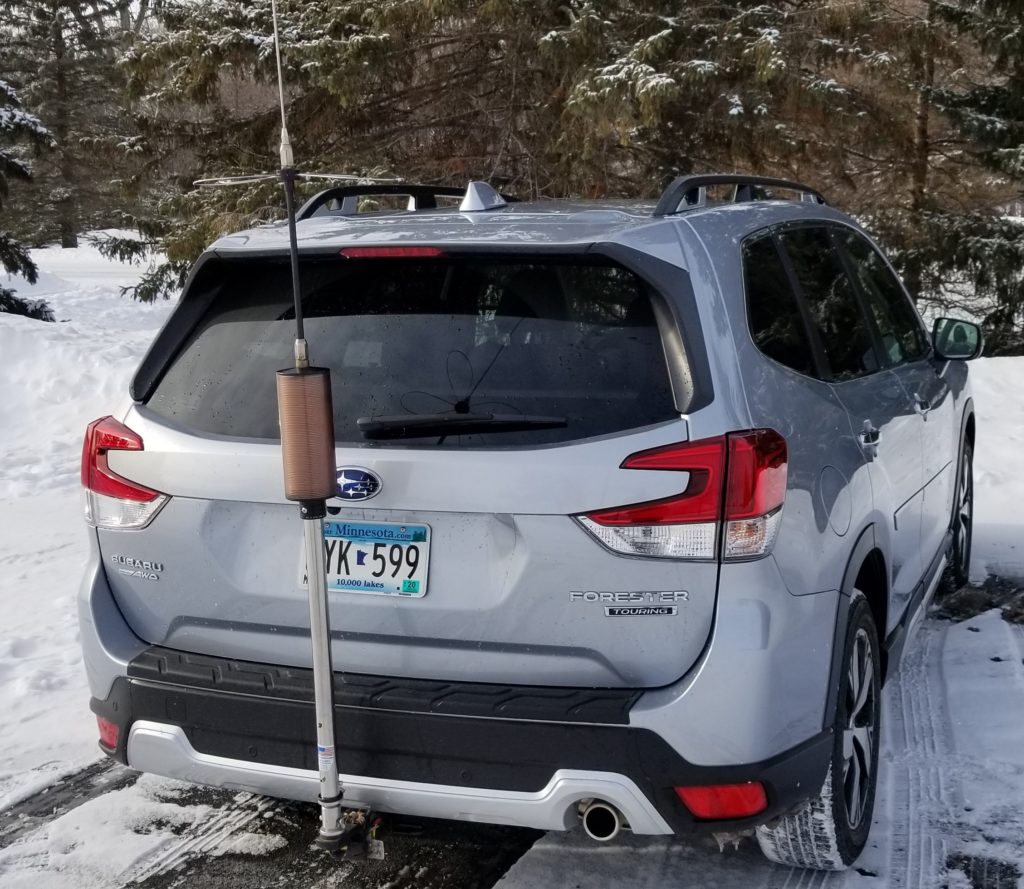 KØPC (KØPC & KBØEO)
APRS Tracking: KØPC-9
Plan: SCO 1400z, CRV 1412z, WRI 1445z, MEE 1510z, KND 1540z, CHP 1610z, SWI 1645z, STV 1705z, POP 1730z, DOU 1750z, GRA 1815z, OTT 1840z, WIL 1900z, TRA 1940z, BIG 2010z, LAC 2040z, YEL 2120z, LIN 2130z, LYO 2145z, RDW 2215z, REN 2255z, SIB 2315z, LES 2355z
A new team of Dan KBØEO and Pat KØPC this year. The route covers a swath of West Central Minnesota. We will operate 40M & 20M CW from each county. Look for 80M at the beginning and end of the contest.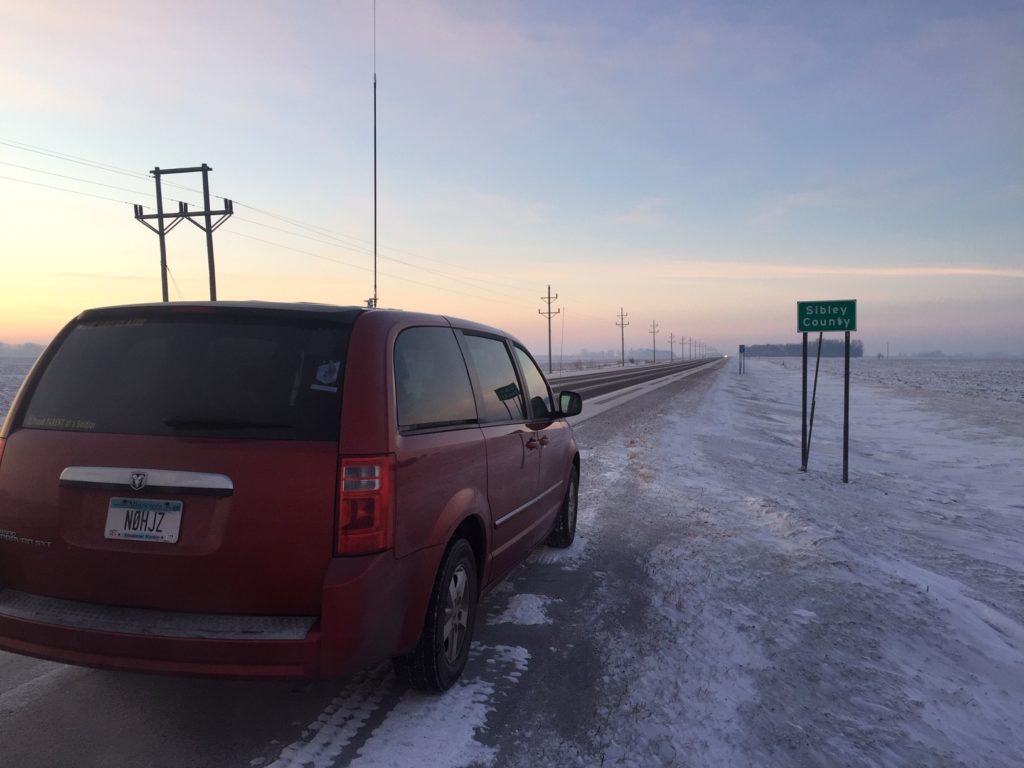 NØHJZ
Plan: MCL 1400z, SIB 1415z, REN 1435z, NIC 1450z, BRO 1505z, WAT 1535z, COT 1550z, RDW 1620z, MUR 1650z, LYO 1715z, LIN 1735z, PIP 1750z, ROC 1820z, NOB 1840z, JAC 1905z, MRT 1935z, FAI 2000z, BLU 2030z, WSC 2045z, STE 2105z, FRE 2125z, MOW 2140z, DOD 2155z, GOO 2215z, RIC 2240z, DAK 2255z, SCO 2315z, LES 2335z
I'll be out mobile again this year for MNQP. I'll be on 80CW at the start. After about a half hour, I'll go to 20M Phone and stay there till the band dies late in the day. Then 80M CW at the end. I may also try 40M CW/Phone at the end if enough time. Freqs will be 3,552 & 14.252 (+/-).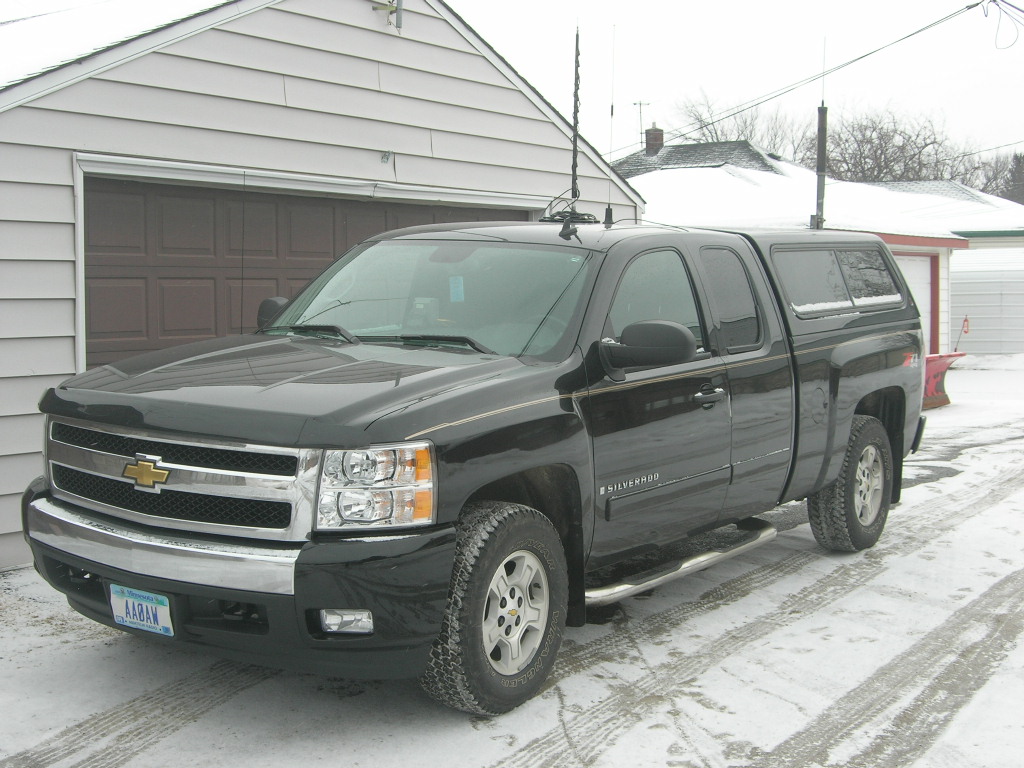 NØEO (AAØAW)
APRS Tracking: N0EO-9
Plan: AIT, ITA, CAS, HUB, BEL, CLE, POL, MAH, RDL, PEN, MRS, KIT, ROS, LKW, KOO
The NØEO mobile will be doing the same route again this year. Main forcus will be CW but SSB if the bands and time permits. 80, 40 and 20 meters from way up north. Vehicle is the 2007 Chevy Silverado and will be running a Outbacker Perth Plus (80) and 2 hustler verticals for 40 and 20. Watch for Neo as he works his way from up north.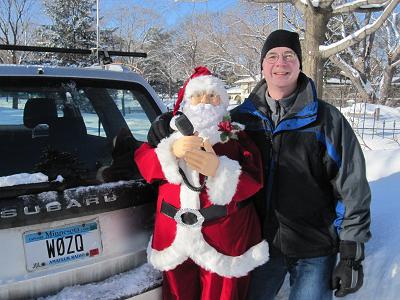 WØZQ
APRS Tracking: W0ZQ-9
Plan: ANO, WSH, CHS, ISA, KNB, PIN, CRL, STL, LAK, COO
I plan to activate these ten MN counties on 20 and 40m phone and CW, and 80m CW. It will be a longer drive home this year, albeit with a stop at Bettie's Pie Shop for a butter scotch pie. I plan to be on 80m CW from each stop throughout the day so I hope there is some activity there.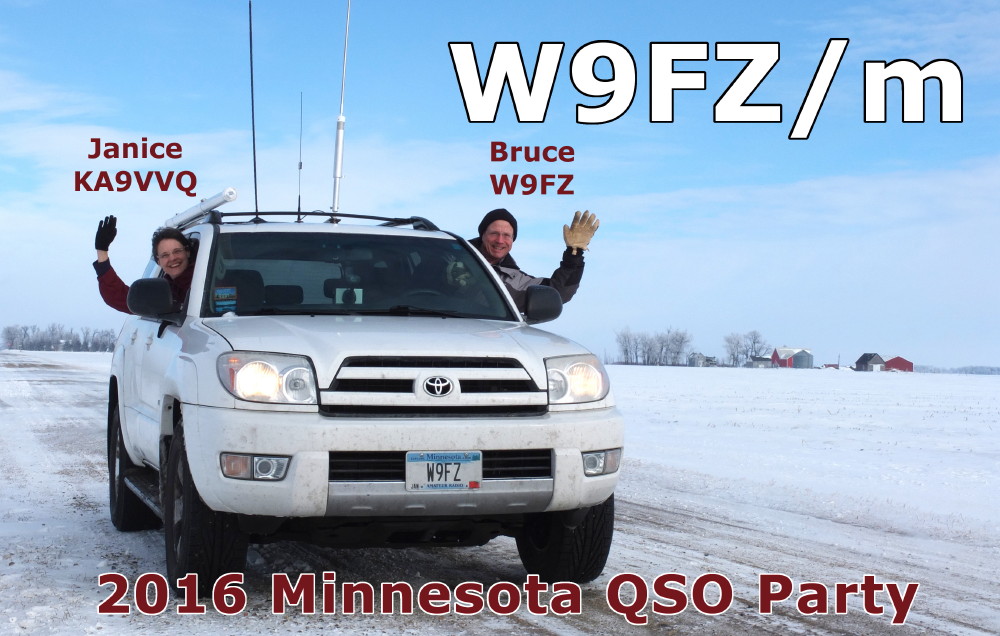 W9FZ (W9FZ & KA9VVQ)
APRS Tracking: W9FZ-15
Plan: KNB 1400z, PIN 1545z, CRL 1745z, AIT 2000z, CRO 2130z, CAS 2300z
Janice and I will be out again this year mobile in MNQP. Our long range goal is to activate all MN counties. Our progress so far is visible at: https://w9fz.com/hamtrips/images/mnqpw9fz18_1.jpg
We use my callsign and Janice's name as "Jan".
W9FZ/m "Jan" primarily on 20m SSB but we'll give 40m SSB a try.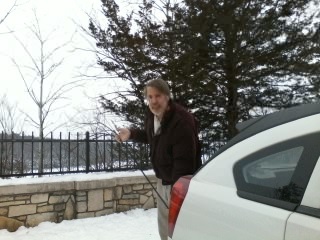 WØIS
Plan: RAM 1400z, WSH 1500z, CHS 1615z, PIN 1815z, CRL 1930z, AIT 2115z, KNB 2300z
I'm planning on operating the MNQP as a rover. I'll be starting in Ramsey
County and heading north. Most of the first stops will be at State Parks, and
I will be activating the parks for WWFF. 73, Rick WØIS
KØARF (KØSV)
Plan: BEN 1400z, MOR 1900z
I'm planning on activating 2 counties this year. I'll be running SS only from Benton and Morrison counties. Name will be Scotty in honor of my best friend and long time KØARFer NØUV. I plan on running solo.
The 1st 5 hours will be in Benton county and the rest will be in Morrison. Look for me around 3850+-, 7250, 14260, and 21350. Good luck to all.73, Charlie KØSV aka Scotty KØARF
NUØQ
APRS Tracking: NUØQ-10
Plan: BRO, RDW, LYO, MUR, NOB, COT, JAC, WAT, MRT, FAI, FRE
My first time in the Minnesota QSO Party. I'll be solo, so most operating will be while parked. I expect to spend about an hour in each county. I mainly operate CW, but may do some SSB as well. I'll be on 40m and 20m with 80m late and maybe occasionally during the day. 73, Bill NUØQ
Check back here for more mobile route announcements.